How To Govern And Regulate Artificial Intelligence
OpenAI, Google, Microsoft, and Anthropic want to regulate AI, but the IEEE has ALREADY DEVELOPED a standard for artificial intelligence.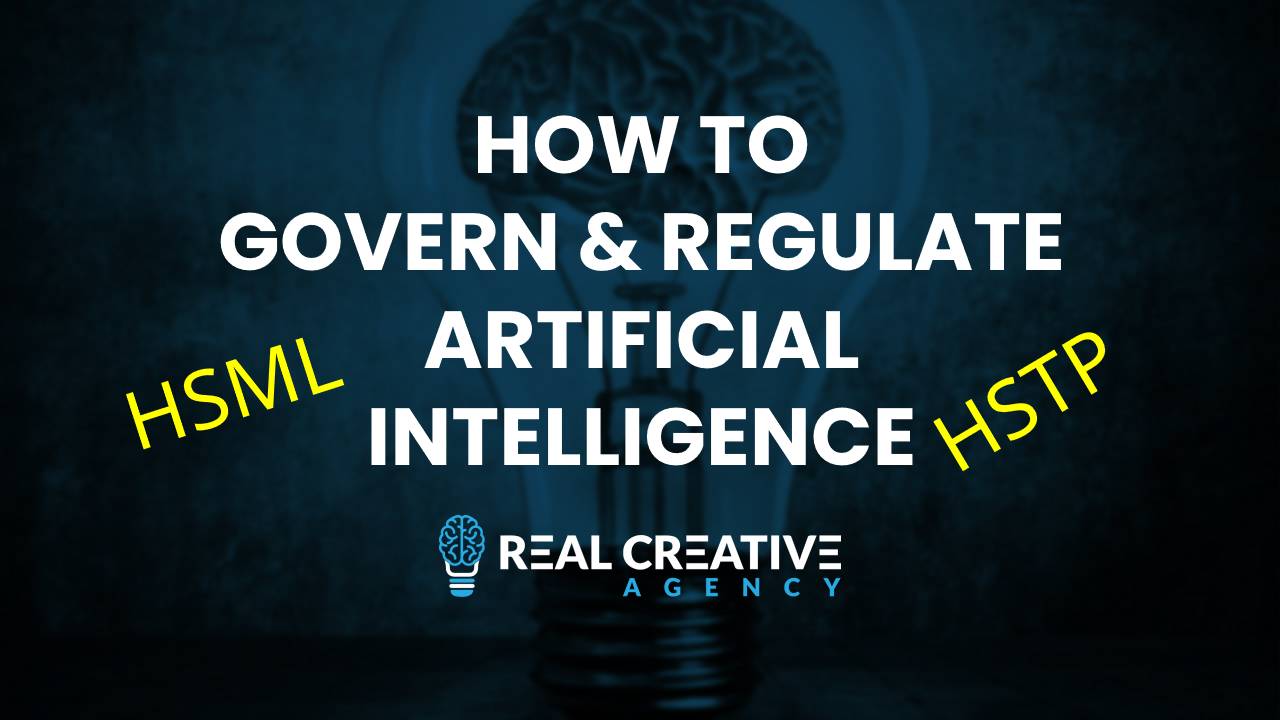 Published: July 27, 2023 | Published By: Real Creative Agency
Artificial Intelligence Regulation Standard
OpenAI, Google, Microsoft, and Anthropic want to regulate AI, but the IEEE has ALREADY DEVELOPED a standard for artificial intelligence.
Sam Altman, CEO of OpenAI, testified in front of Congress and admitted they could not explain the training of their ai… so do you REALLY think this is who we should trust with governing one of the most powerful technologies ever?
Especially when one of the most respected governing bodies has ALREADY established (and developed) a standard for AI.
In fact, the IEEE deemed this a "public imperative" a couple of years ago.
The IEEE was responsible for creating the standards for "grounding electricity," which enabled a TENFOLD increase in US GDP.
Years ago, before the generative AI explosion, the IEEE created a "grounding" standard for AI.
Artificial Intelligence is the New Electricity.
Andrew Ng, founder of DeepLearning AI once stated that "Ai is the new electricity" that will "transform EVERY industry and create huge economic value".
This is saying a lot, considering that the U. S. GDP grew NEARLY TENFOLD compared to the pre-electrification era.
McKinsey, the respected global consulting company, estimates that AI's total economic potential could be between $17.1 and $25.6 TRILLION annually.
And if that weren't enough, one of the most successful venture capital firms, Andreessen Horowitz stated the "potential size of the Ai market is hard to grasp – somewhere between ALL software and ALL human endeavors."
With all that being said, just like electricity in its early days, artificial intelligence is being met with concerns over safety.
Considering that back then, it was a live copper wire with minimal insulation and NO GROUNDING, subsequently electrocuting animals.
Fast forward to today, and it's a Terminator-like robot that will destroy humans.
So, what was the tipping point for electricity adoption?
Chiefly, when measures such as grounding standards were adopted, fears around electricity were alleviated, and as a result, global GDP soared.
Grounding standards played a pivotal role in facilitating the electrification of the world.
The IEEE eventually created the grounding standards, which enabled mass adoption.
Likewise, artificial intelligence (AI) needs grounding standards of its own.
Can Machines Think?
Consider this, Alan Turing, the father of modern computer science and artificial intelligence asked, "Can machines think?". 
Machines certainly can't, but VERSES AI has created software that can think!  As a result, when their unique software is embedded INTO a machine, it can learn and adapt in real time.
This begs the following questions: First, how do we govern Ai systems on a path to becoming self-governing?
Second, how do we make sure that ai doesn't turn into millions of live copper wires without insulation and grounding?
Dentons, the Spatial Web Foundation, and VERSES AI recently published a white paper titled The Future of Global AI Governance, which presents a comprehensive narrative of how we can govern AI systems on the path to becoming self-governing.
The problems with Generative AI
ChatGPT, the fastest growing application in history, is really our first experience with ai.
It is based on Generative AI and has created NUMEROUS other AI applications.
The literal explosion of Generative AI marks the dawning of the Intelligence Age, with some of these systems  already surpassing human performance in specific tasks.
On the flip side, It has also created an urgent need for AI regulation!
The primary problem with all AI functionality thus far is explainability and transparency.
Whereas Generative AI systems excel in identifying data patterns, they lack the capacity to comprehend causality.
These current systems lack the capacity to comprehend and reason, in a natural cognitive manner.
In other words, Generative AI solutions cannot understand context and causality. Simply put, they cannot "think." Therefore, this is truly NOT artificial intelligence.
Although this is true, VERSES may offer a Generative AI solution
In electrical terms, how do we "ground" artificial intelligence?
What if we look at the grounding standards of the electrical age for inspiration?
Furthermore, what did the IEEE require to approve the standard for electricity?
To this end, a standardized GRID and Electrical MACHINES required acceptable voltage levels they could handle.
In this case, the Spatial Web is the "grid," and AIS (autonomous intelligent systems) are the "electrical machines".
To "ground ai," there needs to be a shared understanding between humans and intelligent machines.
While humans express their understanding of the world in WORDS, machines operate in BITS.
Hence, there needs to be a common language that humans and machines can understand.
Enter HSML, hyperspatial modeling language.
What's that, readers may be asking?  This translation tool enables a bidirectional conversation between humans and machines… which establishes trust.
It interprets the subtleties and nuances of context, which in turn, gives machines "common sense."
Currently, web pages have HTML format, enabling machines to understand them. Similarly, data (in all forms and from all devices) can now have a modeling language for machines.
How context and causality are added to data
HSML is a knowledge modeling language designed to encode the properties of ANY physical object or concept, as well as the CONTEXT of ANY activity, in digital or physical space.
HSML is a common language that basically "codes" the virtual or physical world, and adds context and causality to data.  It gives machines common sense and the ability to learn and think.
Furthermore, HSML provides the Who, What, When, Where, How and WHY of any scenario, situation, or circumstance… in digital form for machines!
HSML is uniquely positioned to meet the requirements of our "grounding" analogy for ai.
The IEEE declared AI governance a public imperative
The IEEE launched the Global Initiative on Ethics of Autonomous and Intelligent Systems in 2016 to address ethical, legal and social concerns in the development and deployment of AI and autonomous technologies.
Critically important to note, in July 2020, VERSES AI secured a licensing agreement with the world's largest standards development organization. 
As such, the IEEE which designated the Spatial Web protocols "a public imperative," exclusively reserved for critical infrastructure standards that benefit humanity at large such as for nuclear energy, voting machines and power grids!
The IEEE is proposing to make VERSES AI's protocol THE standard for the Spatial Web.
If passed, that would mean that VERSES AI's protocols would be THE "standard" for the Spatial Web.  Simply meaning, devices, chips, databases, etc… would have to be adopted or be left behind!
The IEEE Final Draft is expected to be submitted by the end of 2023
Bottom Line
Our nanocap marketing agency believes that creative content is better than spending money on ads.
Disclaimer

This information is for educational purposes only, it is NOT investment advice. It is published as an information service for highly speculative investors, and it includes opinions on buying, selling, and holding various stocks and other securities. VERSES AI Inc is an extremely high-risk investment, and it is HIGHLY LIKELY you can LOSE YOUR ENTIRE INVESTMENT. Investors should consult with their financial advisor BEFORE making ANY investment.

Prospective investors should carefully consider and evaluate all risks and uncertainties involved in an investment in this Company, including risks related to the Company's limited operating history, the Company's need for additional funding, the Company's ability to successfully implement its growth strategy, conflicts of interest, the uncertainty of the use of available funds, the Company's failure to manage growth, and reliance on strategic partnerships.

The information provided is obtained from sources believed to be reliable but is not guaranteed for accuracy or completeness. Any persons who buy, sell, or hold securities should do so with caution and consult with a broker or investment adviser before doing so.

Any discussions and pages may contain forward-looking statements that involve risks and uncertainties. A company's results could differ materially from those in forward-looking statements or announcements.

All material is for informational purposes only and should not be construed as an offer or solicitation of an offer to buy or sell securities.

At various times, we may own, buy or sell the securities discussed for investment or trading purposes. We (publishers, owners, and agents) are not liable for any losses or damages, monetary or otherwise, that result from the content shared.

Scott Shaffer is compensated by VERSES AI Inc (the "Company") for publicizing information about the Company and its products.

The payment was made through both (i) a $50,000 signing bonus from the Company and (ii) the payment of cash compensation in the amount of $7500.00 per month for a period of 6 months starting February 2023.

As of April 14, 2023,  the Company had (i) issued $50,000 and (ii) paid an aggregate of $15,000.00  in cash compensation for such services by Scott Shaffer.  On April 17, 2023, The Company extended the contract for an additional 6 months and cash compensation was increased to $10,000 per month. Additional cash payments may have accrued since then.
Welcome to
Real Creative Agency

Digital Marketing Experts
Daily helping our most valuable asset "YOU" since 2005.