BEST MicroCap Investor Relations- Get Discovered FAST!
The BEST MicroCap Investor Relations service has a PROVEN WAY to get investor awareness for any penny stock or nanocap FAST!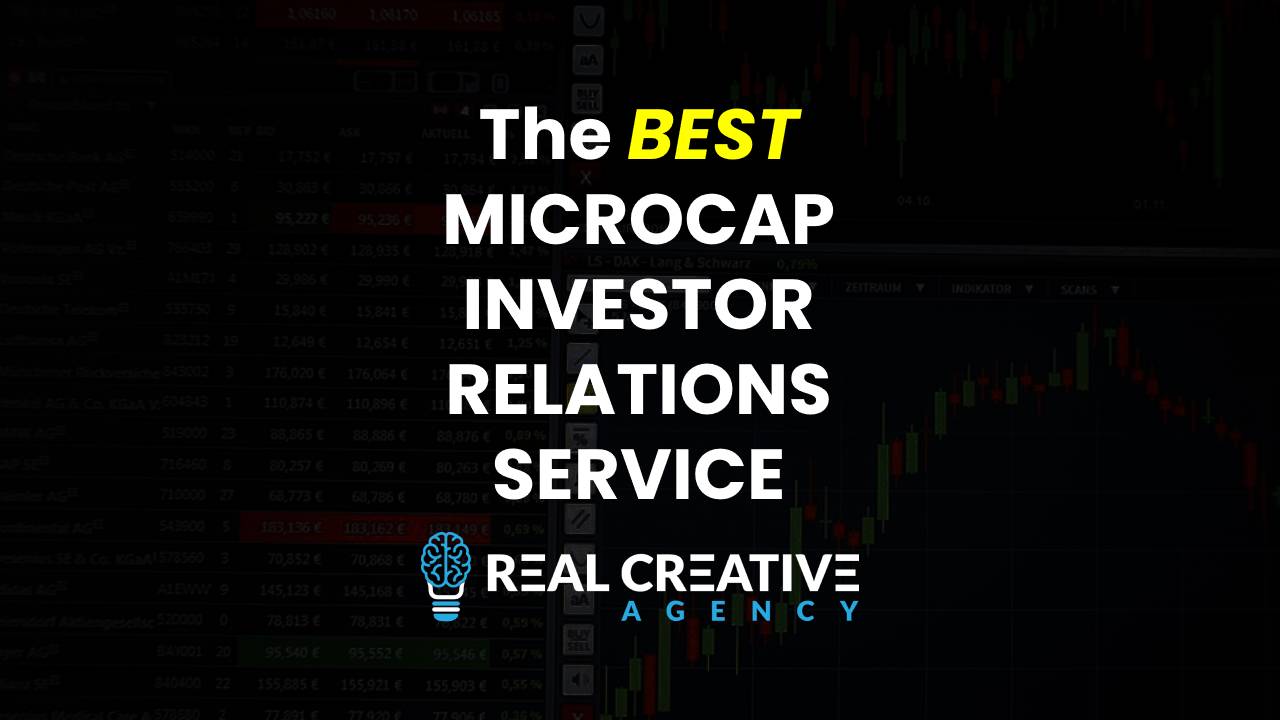 Published: December 27, 2022 | Published By: Real Creative Agency
Want The BEST MicroCap Investor Relations Service?
If your company is a penny stock, microcap, small-cap, or nanocap, here is a PROVEN WAY to get more investor awareness FAST!
We get it. You want to increase your shareholder base and get your stock price higher but you don't know how.
Maybe you're trying to get your share price higher to do a financing or to uplist to a major exchange.
What you're looking for is a service that will not only do a great job of telling your company's story but also to your target audience, AND in a method that has been proven to work.
You want someone that will CONTINUE doing this for more than just a couple of weeks.
You've come to the right place. We've been helping small-cap stocks increase their market caps for almost 30 years.
Contact the BEST MicroCap Stock Marketing Service
Get the BEST Small Cap Stock Research for your company.
Small-cap stocks get no love, and yet they offer one of the BEST upside opportunities in the market.
It is MUCH EASIER for a $15m stock to grow to $150m than it is for a $150m stock to go to $1.5B.
If your company's stock is valued under $100m, you usually face 2 problems:
Institutional money can't buy your stock, which means you can't get research from well-known Wall Street firms.
Chances are your balance sheet, and income statement aren't too pretty.
You need a service that can see your company's potential and convey that picture to a large microcap investing audience.
After founding and running two of the most successful microcap stock newsletters (How To Find Big Stocks and The Insider Buying Report), our shift is now helping penny stocks with 10X potential get awareness FAST.
Why this is BETTER than the BEST small cap investor relations.
We are Wall Street veterans and have seen the work of NUMEROUS IR firms.
Most promise to get your company exposed to a large group of low-price investors and make introductions to high-net-worth investors or family offices. They will help write your press releases and may even write up an investment summary.
What usually ends up happening is your company's facts, and news releases are just regurgitated and placed on their letterhead or on their website.
You really need INVESTOR AWARENESS more than investor relations.
You're a penny stock, and where you will get the MOST IMMEDIATE ATTENTION is on the stock message boards like StockTwits or Investors Hub.
Have you ever noticed there's usually one message board poster that ALL of the other posters follow?
There's usually someone who has done SO MUCH research about the company and the industry that other investors rely on.
Chances are that is someone that could be working for us.
Our microcap investor service includes:
VERY extensive research report that presents your "big picture"
Continuous message board presence
Detailed summary of EVERY press release and quarterly filing
Exposure to our large database of low price stock investors
We know how to get a penny stock investor interested in a company.
Numerous companies have told us that our VERY EXTENSIVE research reports are considered the best penny stock marketing pieces ever seen. (Newsletter from 2012)
We highlighted this company at a $15M market cap that grew to over $400M in just 18 mos.
Are you ready to get FAST & CONTINUOUS investor awareness?
CHEAPER than attending a MicroCap Investor Conference.
By the time you add up the cost of travel, marketing material, and swag, your company spent a pretty penny just to speak to a couple of dozen lukewarm leads.
Save your money.
There is a MUCH BETTER and CHEAPER way to get your company in front of your target audience…and probably with a more enthusiastic storyteller than the CEO (yeah, we've seen the tortured faces of management).
We know where these investors hang out and the language they speak.
Our research is extensive..I mean really extensive.
Any potential question is usually answered in one of our reports.
You can get your company's story in front of THOUSANDS of investors without leaving your home!
Your time is much better spent on growing the business and not worrying if there's enough marketing material.
PROVEN to get small stock investor awareness FAST.
Oh yeah, prove it!
Some of the microcaps we discovered and highlighted before they became household names on Wall Street.
Leading supplier of microinverter-based solar systems
Genetic modification software platform
Proprietary tobacco nicotine reduction technology
Revolutionary dissolvable chemotherapy treatment
Artificial intelligence internet advertising platform
Application virtualization technology
Pioneer in robotic surgery pioneer
Most of these companies went from a nanocap to mid to large-cap stock.
Our success over the years has enabled us to build a VERY LARGE email database of penny stock investors.
Our problem is YOUR OPPORTUNITY.
It is very difficult to highlight microcap stocks to a large following without disrupting the trading.
Instead of issuing a new highlighted company to our subscriber base, we are VERY SELECTIVE on who (and where) we present your company to and when to reduce extreme volatility.
There is no "dump" because we never "pump."
Does your company meet our strict guidelines?
Have disruptive, revolutionary, or game-changing technology.
Participating in a current or upcoming trend.
Have impressive revenue growth.
Have a market cap at a deep discount to enterprise value.
Looking to increase market cap to uplist to a major exchange.
You are EXACTLY the kind of company we work with.
Please keep in mind we ONLY work with a company with one of the above qualifications.
Bottom Line
If you're tired of having little success with other investor relations firms, try the BEST MicropCap Stock Investor Relations that is FAST and PROVEN to work.
Daily helping our most valuable asset "YOU" since 2005.
Welcome to
Real Creative Agency

Digital Marketing Experts
Daily helping our most valuable asset "YOU" since 2005.